Hygiene-Innovation For The Beverage Industry
Usually, the shelf-life of beverages is extended by pasteurizing. Throughout this process fluids are heated up in order to kill all kinds of micro-organisms (e.g. bacteria). As a consequence, adding preservatives to the beverage becomes redundant.
The veder Waterboxes are used for process water treatment of tunnel-pasteurizers since 2014. Depending on the amount of water in the pasteurizer, 2 to 6 connected Waterboxes, are used to filter the process water of a pasteurizer. A single Waterbox, consisting of 12 filter cartridges, is able to filter up to 3 m3/h.
As a result, the purity of the water is increased, and the pasteurizer becomes much cleaner. The veder Waterboxes significantly reduce the input of chemicals, which are used to reduce the microbiological contamination. The environment as well as the operating personnel profit from a reduced chemical input. Furthermore, the productivity of the pasteurizer is increased as the pasteurizer is stopped for cleaning less often.
The use of the veder Waterbox is a value-adding and sustainable element in the beverage industry – ensuring the consumer a clean beverage container.
State-of-the-art Technology
The veder Waterbox can be operated two ways; either by using the touch panel on the Waterbox or by remote access. The remote access is also use by the veder maintenance technician to monitor the Waterboxes.

Besides filtration, the Waterbox Control contains intelligent functions such as a self-test as well as fully automated backwash and self-cleaning.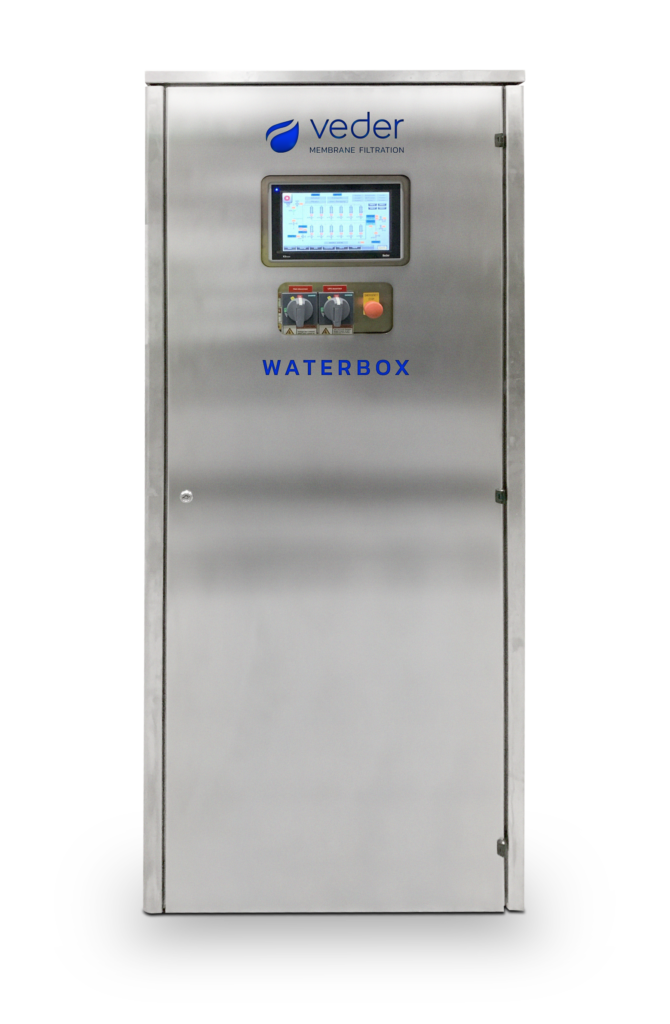 The veder Waterbox is the solution for every beverage bottler with high quality standards and a desire for more sustainability.