Thanks to the innovative veder Poolbox swimming in chlorine-free private pools is finally possible. This powerful and environmentally friendly veder technology makes sure you swim in crystal clear water.
With our knowhow from the veder world patent, we are helping to provide the purest process water for hygienically clean packaging in the beverage industry for many years. Our unique veder membrane filtration technology is now also used for private pools.
The core of the Poolbox are the veder membrane filters with its ability to filter impurities and very small particles such as bacteria.
Our well-designed solution – the veder pool concept – allows the maximum reduction of active agents such as active oxygen compounds and remover of nutrients for algae. This comprehensive solution is an attractive and affordable alternative to natural pools.

The pH regulation can be dispensed with if the total hardness of the water is below 6 ° dH (German Hardness).

Otherwise we recommend decalcifying the water or a normal pH control to prevent calcification of the membrane filter and the pool.

With hard water, the pool water can either be on The usual pH value in the range 7.0 to 7.4 can be set or a softening system for the fill water is installed for a swimming experience in soft water. Without pH regulation, the pH value levels off at just over 8 - a value like in most natural lakes.

Contact your plumber or water supplier for further questions!
Our unique veder membrane filtration technology is now also available for private pools.
Simple Mechanical Principle - veder Poolbox M
The handling is simple, because the Poolbox is based on mechanical principles. No sensitive electronics are installed. The veder Poolbox is also well suited for outdoor utility rooms.

The efficient design of the Poolbox is constructed in a way ready for connection. Therefore, retrofitting your pool with a Poolbox is easy.
Price incl. VAT
EUR 6.240,-
Fully automatic membrane filtration for private pools with highest requirements. Based on the know-how of 24/7 use in the beverage industry, we have adapted our technology to the requirements of the high-end private pool and developed the veder Poolbox Pro.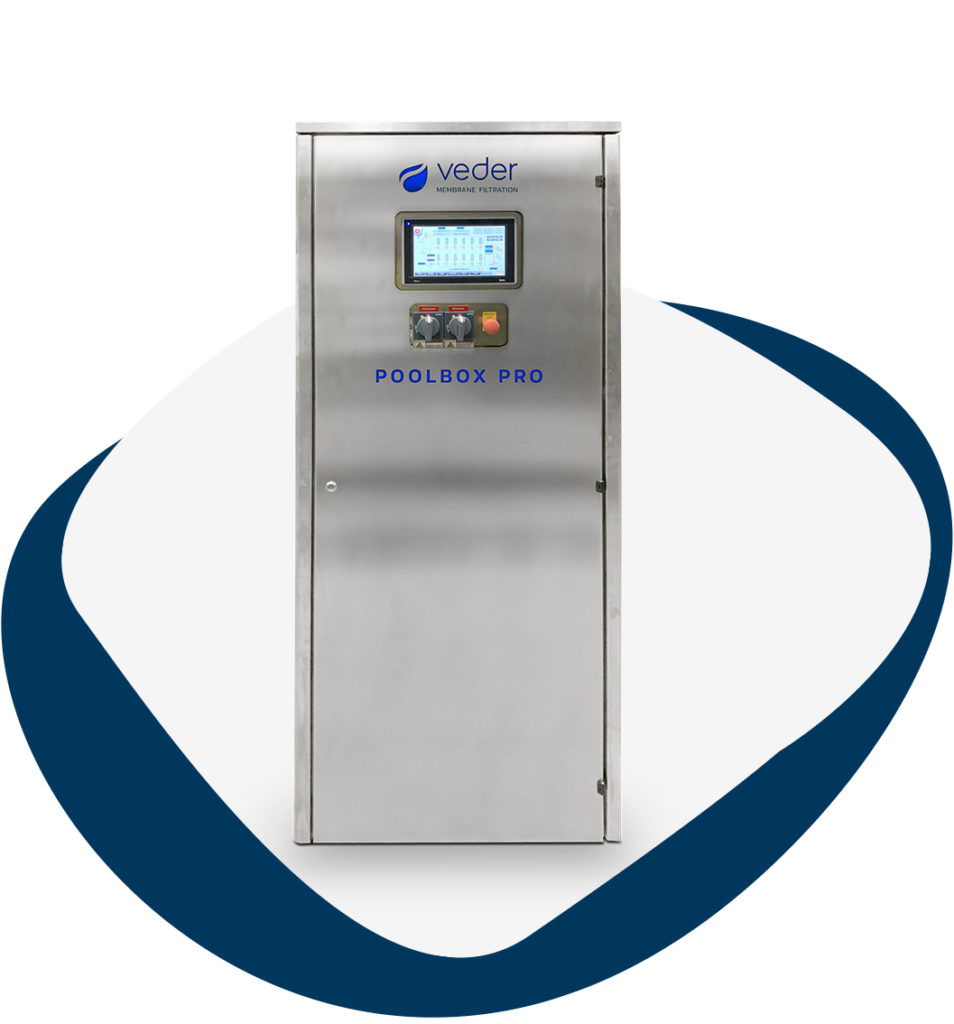 The fully automated veder Poolbox Pro can be controlled by the touch panel on the machine. The Poolbox Pro is also accessable remotely by the owner or our maintenance technicians.
Besides filtration, the veder Poolbox Pro control contains intelligent functions such as a self-test as well as fully automated backwash and self-cleaning. We are happy to work on a highly individual solution together with your pool planner.